Industry News
On India's 75th Independence Day (15th August 2021), Prime Minister Narendra Modi launched the National Hydrogen Mission which contributes towards achieving the country's ambitious climate targets and make India a green hydrogen hub. This article provides an overview of green hydrogen fundamentals and how the Government of India plans to support a massive deployment of this pioneering technology.
Before getting into the policy details, let us review what is green hydrogen. Most of us learnt about hydrogen in one of our earliest chemistry classes. It is the first atom in the periodic table, and is one of the most abundant elements in the universe. Hydrogen is a colourless and odourless gas, but hardly exists as a gas on earth. It combines with other elements to form compounds like water (combining with oxygen) and hydrocarbons (combining with carbon). As a result, hydrogen must be separated from the other elements in these compounds so that it can be used for various applications. Since hydrogen is an energy carrier, it is expected to play a key role in the decarbonisation of hard-to-able sectors like iron and steel, oil refining and fertilizers, among others. The colour of hydrogen, green in this case, becomes significant due to its role in the decarbonisation of energy systems.
What is green hydrogen?
If hydrogen is colourless, where does the 'green' colour come from, and what are the other colours of hydrogen? The answer is that hydrogen is assigned a colour based on its production method. Apart from green, hydrogen can be blue, grey, brown, black, turquoise, red, pink, purple, and white.
Hydrogen can be produced either using electricity or using fossil fuels. When hydrogen is produced using renewable or green electricity, it is called green hydrogen. The image below provides a comparison of the different colours of hydrogen. White hydrogen, which is not shown in the image, is available naturally in the environment in negligible quantities. Red Hydrogen, also not in the image, is produced by nuclear power using catalytic splitting (Source).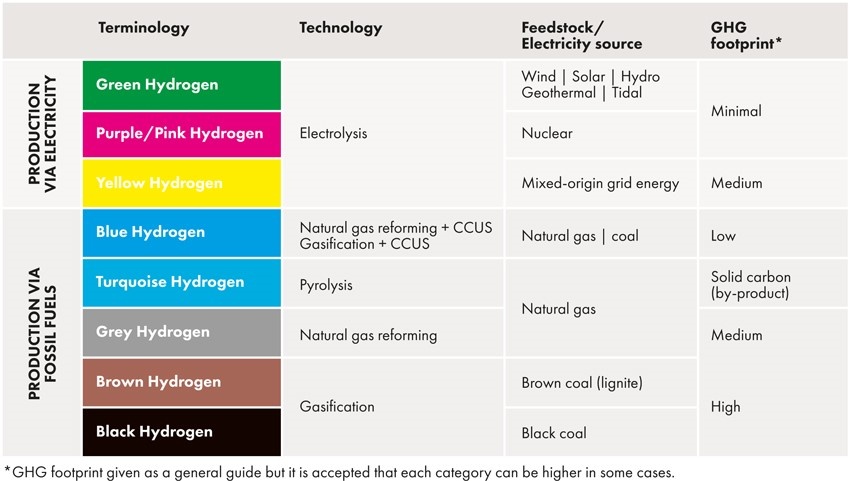 Source:

Global Energy Infrastructure
India's green hydrogen policy
This policy envisages that hydrogen and ammonia will replace fossil fuels and contribute to the decarbonisation of India's energy systems and make India an export hub for green hydrogen and green ammonia. Through the policy, the country has set itself a target of producing 5 million tonnes per annum (MTPA) of green hydrogen by 2030 and the related development of renewable energy capacity.
To achieve these targets, the Government of India has announced policies intended to lower the Levelized Cost of Hydrogen (LCOH) by reducing the input costs (renewable electricity, transmission costs) and reducing development costs for manufacturers of green hydrogen/ammonia. Some of the key highlights of the policy are:
Green hydrogen / ammonia manufacturers may purchase renewable power from the power exchange or set up renewable energy capacity themselves or through any other developer anywhere.
Open access will be granted within 15 days of receipt of application.
The green hydrogen / ammonia manufacturer can bank his unconsumed renewable power, up to 30 days, with a distribution company and take it back when required.
Distribution licensees can also procure and supply renewable energy to the manufacturers of green hydrogen / ammonia in their states at concessional prices which will only include the cost of procurement, wheeling charges and a small margin as determined by the State Commission.
Waiver of inter-state transmission charges for a period of 25 years will be allowed to the manufacturers of green hydrogen / ammonia for the projects commissioned before 30th June 2025.
The manufacturers of green hydrogen / ammonia and the renewable energy plant shall be given connectivity to the grid on priority basis to avoid any procedural delays.
The benefit of Renewable Purchase Obligation (RPO) will be granted incentives to the hydrogen/ammonia manufacturer and the distribution licensee for consumption of renewable power.
To ensure Ease of Doing Business, a single portal for carrying out all the activities, including statutory clearances, in a time bound manner will be set up by MNRE.
Connectivity, at the generation end and the green hydrogen / ammonia manufacturing end, to the ISTS for renewable energy capacity set up for the purpose of manufacturing green hydrogen / ammonia shall be granted on priority.
Manufacturers of green hydrogen / ammonia shall be allowed to set up bunkers near ports for storage of green ammonia for export / use by shipping. The land for the storage for this purpose shall be provided by the respective Port Authorities at applicable charges.
Further details about the policy can be accessed here
In conclusion
Green Hydrogen is expected to a play a crucial role in achieving India's climate targets. It's role in decarbonising the energy systems by replacing fossil fuels is also well documented. With the proactive and ambitious policies of the Government of India, the green hydrogen economy is expected to take off in a major way in India. To further explore ideas, innovations, and partnerships in India's burgeoning green hydrogen / ammonia sector, visit The smarter E India 2022 and participate in its exclusive conference on green hydrogen.