Industry News
Case Study 6
Sector- Energy
Company in focus - Hitachi Energy
Energy demand is increasing with every passing day. This is due to various socio-economic factors such as urbanisation, population increase, rise in per capita electricity consumption, better living standards, changing consumer behaviour and digitisation.
This means there is a higher requirement to produce electricity, and fuel for transportation. Extracting fossil fuels to meet our energy requirements means that natural resources are being exploited for convenience. These natural resources include coal (for electricity generation), and oil and gas (for transportation and power generation).
What is ignored is that natural resources have taken millions of years to form. Also, at the current rate of usage, these natural resources will be depleted very soon. That is not all. Fossil fuels result in higher greenhouse gas emissions. These emissions are proving to be dangerous for people and the planet alike.
The low cost attached to fossil fuels makes them an attractive proposition for many developing countries. However, this fossil fuel dependency has resulted in a major setback to humankind in the form of climate change. Temperature has been identified as the most impactful factor of climate change followed by different climate-changing factors.
Globally, energy continues to be the top emitter of greenhouse gasses with 30% followed by transportation with 20%. If you take energy as a segment (electricity, heat, transport), the percentage is much higher at approximately 73% of the total emissions. This needs attention and curtailment. The United Nations has put together 17 Sustainable Development Goals (SDGs) which ask all countries to move away from fossil fuels and adopt renewable energy which is good for the planet.
According to data from the International Energy Agency (IEA), global carbon dioxide (CO2) emissions from energy combustion and industrial processes rebounded in 2021 to reach their highest-ever annual level. A 6% increase from 2020 pushed emissions to 36.3 gigatonnes (Gt).
The world witnessed a dip in CO2 emissions during the Covid-19 pandemic when energy demand dipped in 2020, reducing global CO2 emissions by 5.2%. However, the economy rebounded faster than expected when the restrictions were relaxed after the pandemic was brought under control.
It was reflected in the higher energy demand in 2021. Along with this, extreme weather conditions prevailed in many geographical regions. The result? Higher coal burning to produce more electricity despite the world seeing a record capacity addition in renewable energy.
IEA data shows that emissions increased by almost 2.1 Gt from 2020 levels. 2021 saw the biggest-ever year-on-year increase in energy-related CO2 emissions in absolute terms. The rebound in 2021 more than reversed the pandemic-induced decline in emissions of 1.9 Gt experienced in 2020. CO2 emissions in 2021 rose to around 180 megatonnes (Mt) above the pre-pandemic level of 2019.'
"The 6% increase in CO2 emissions in 2021 was in line with the jump in global economic output of 5.9%. This marks the strongest coupling of CO2 emissions with GDP growth since 2010, when global emissions rebounded by 6.1% while economic output grew by 5.1% as the world emerged from the global financial crisis. Energy-related CO2 emissions grew to 36.3 Gt in 2021, a record high.
"These are not encouraging facts. However, there is one piece of news which comes as a relief. As per the latest report from IEA, the carbon emissions from the burning of fossil fuels are expected to rise again this year, but at a much lower pace. This is thanks to the increase in renewable energy generation, and also because electric vehicles are gaining in popularity in the transport segment. 'CO2 emissions from fossil fuels are on course to rise by almost 1% in 2022 compared to the previous year. That's nearly 300 million metric tonnes of CO2 more than in 2021, when the burning of gas, oil and coal released about 33.5 billion tonnes of CO2."
Annual change in CO2 emissions from energy consumption and industrial processes, 1900-2021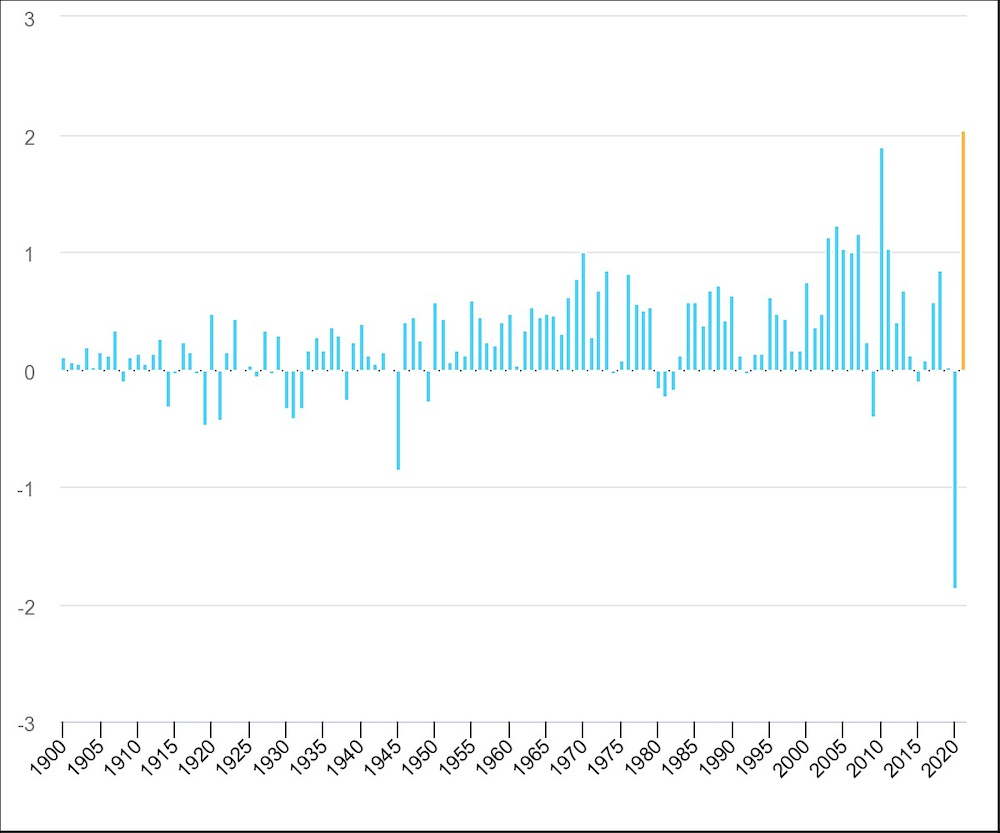 Source: IEA
What does this indicate? It points to the need for more renewable energy adoption. In renewables, solar comes in as an easy option because of the higher benefits it holds - easy installation, low maintenance, proximity of installation to the point of use, etc. For energy companies that are involved in energy generation it becomes crucial to reduce their own carbon footprint. For those companies which are looking to understand the latest developments in solar, The Smarter E India / Intersolar India 2022 will be the best platform.
Organised from 7-9 December 2022 at Gandhinagar, Gujarat, the show will bring the Who's Who of solar who specialise in rooftop installations.
Case Study
Hitachi Energy : accelerating energy transition through technology
Hitachi Energy, a leader in the worldwide energy industry, is well known for its solutions and services in sustainable energy. The company, which has its headquarters in North America, serves the generation, transmission, and distribution of power. The business is currently concentrating on offering the clients with cutting-edge solutions for a flexible, resilient, and sustainable energy future.
Therefore, it becomes even more crucial for a company like Hitachi Energy, which operates in the energy sector, to concentrate on decarbonising its own facilities. The corporation created the Sustainability 2030 plan and aims to achieve carbon neutrality in its operations by 2030. In addition, it targets to reduce emissions along the value chain by 50% with customers, partners, and suppliers, supporting SDG 7 'Affordable and Clean Energy' and align with the Paris agreement to limit global warming to 1.5 degrees.
As a first step toward becoming carbon neutral across operations, Hitachi Energy is investing in energy efficiency across its facilities.
For a start, the company has implemented technologies in the industrial facility in Vadodara, Gujarat, an area that experiences year-round high levels of solar radiation. "We used the plug-and-play containerized microgrid technology to commission an industrial solar microgrid in 2018 to maximise the use of renewable energy. We are considering ways to enhance the current system in order to support anticipated growth," states Akilur Rahman, Chief Technology Officer, Hitachi Energy India Limited.
Besides, the company began its carbon-neutral journey last year.
"We quickly moved toward meeting our Sustainability 2030 goal of becoming carbon-neutral in our own operations, and by December 2021, we had achieved our first step goal of using 100% fossil-free electricity in our operations. Through initiatives that produced our own fossil-free electricity, we achieved this," informs Mr. Rahman.
He continues, "We considered a novel approach to optimise energy production and consumption. In order to reduce the use of fuel, we leveraged on digital and energy platforms to develop and engineer a special plug-and-play nano-grid for site offices."
Hitachi Energy plans to use the trademarked tool for its EPC projects globally.
They have worked with clients such as Sun Africa, the largest solar farm in Southern Africa (Angola), SIRAJ ENERGY which created the largest solar project in Qatar, ENEL Green Power in Brazil who implemented world's largest digital solar substation, the largest photovoltaic plant in Europe by Nuez de Balboa PV plant, powered by Hitachi transformers, and the remote control centre for the entire solar and renewables fleet in Italy by ENGIE.
30% of the India's green energy is generated with Hitachi Energy technologies. The solar project in Tamil Nadu by Adani Green Energy Limited (AGEL) was supported by us. For the Kamuthi solar project in Tamil Nadu, which had a capacity of 648 MW—enough to supply 2.60 lakh homes with clean energy. The project included the electrification, automation systems, substation and solar inverters.
The largest solar park in India, 4.75 GW NTPC Renewable Energy Limited (NTPC REL), in Gujarat, which has the capacity to power over 8 million homes, will use Hitachi's made-in-India power transformers. The greatest rating of the transformer to be used by solar power evacuation so far for any operator in India would be the 315 MVA 400/33/33 kV transformers.
The next step
The company is focusing on accelerating the energy transition through innovative technologies for a carbon-neutral future. While helping other companies in their energy pursuits, Hitachi is strongly focused on achieving net zero in its operations by 2030. How it is achieved is though delivering products that lessen carbon emissions. By reducing dangerous substances and pollution throughout the life cycle of their services, Hitachi will reduce the negative effects on human health and the environment from its portfolio.
The company's goal is to become the go-to partner for a future powered by sustainable energy. As the forerunner in technology, we work with clients, partners, and other crucial stakeholders to allow a sustainable energy future for current and future generations.
——————————————————————————————————-
Quote
"At present, around a quarter of renewable energy consumed is drawn from solar energy, which will soon move to almost one-third of it. In certain places, solar energy is the primary source of energy, In Q2FY23, our India operations' carbon emissions declined ~40% YoY," Akilur Rahman, Chief Technology Officer, Hitachi Energy India Limited
Blurb
In India, 30% of green power in India flows through Hitachi Energy technologies.
Additional info
Launched carbon neutral journey with Sustainability plan in 2021
To become Carbon neutral (CO2e) in own operations by 2030
50% reduction in CO2e emissions along the value chain
50% reduction of waste disposed
25% reduction of freshwater use
Box items
Signatory to PPAs (Power Purchase Agreements) to switch to fossil-free power consumption
Achieved 100% fossil-free electricity consumption in Dec 2021
Potential reduction of 62% Co2 emission y-o-y in FY23
40% YoY reduction in operational carbon footprint
Green House Gas Standard implementation
Reducing 4KL diesel consumption at our site offices through adoption of engineered plug & play nano-grid solution using green energy.
In 2018, commissioned an industrial solar microgrid using our plug-and-play containerized microgrid solution at the Maneja factory.