With a wide range of solar projects launched in the state, there is no place to explore this sector's potential other than The smarter E and its three co-located shows—Intersolar India, electrical energy storage, and Power2Drive India—to be held on 7-9 December 2022 at Gandhinagar, Gujarat.
From less than 10 MW in 2010, India's solar PV installed capacity crossed 50 MW in 2022. One state that played a stellar role in the India's achievements in solar power generation is Gujarat. The state has been a pioneer and leader in several solar initiatives, and thanks to a combination of very high solar irradiation, arid waste land and highly ambitious and supportive government policies, Gujarat today (August 2022) has the highest rooftop solar installed capacity in the country and has the second highest installed capacity in utility scale solar.
The table below provides the solar installed capacity as of 31.07.2022.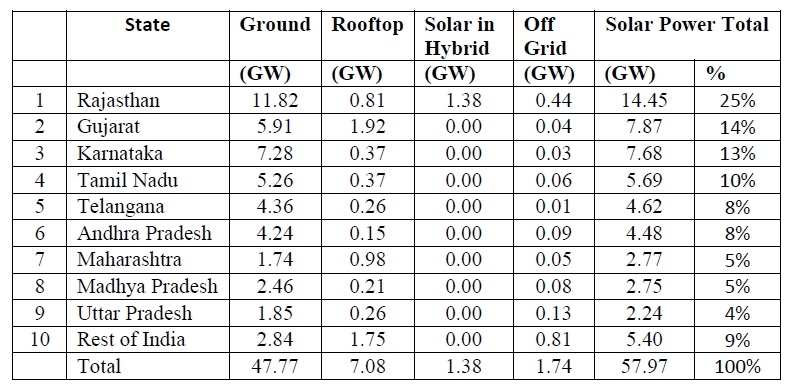 Source: MNRE
Background
In 2009, Gujarat became the first state to announce a comprehensive Solar Power Policy. The 5-year policy targeted a total installed capacity 500 MW Solar Power Generation capacity by the end of 2014. Some of the incentives offered as part of this policy were exemption from electricity duty, 80% accelerated depreciation in the first year, and a power purchase agreement at a fixed level tariff for
25 years. These policies provided long term certainty for businesses to invest in Solar at a time when very few people in India had a good understanding of the technical and financial viability of solar power.
The National Solar Mission was launched in the subsequent year by the Government of India, with a target of 20 GW of grid connected solar power capacity by 2022. Several states came up with their own solar policies subsequently, and the likelihood that the Gujarat Solar Policy served as a blueprint for many other state solar policies is high.
Achievements
Gujarat's achievements in solar spans utility scale, rooftop and Canal Solar projects. This section explores these achievements in more detail.
Utility scale solar
The total utility scale or ground-mounted solar installed capacity in Gujarat stood at about 6 GW, and it is only second to the state of Rajasthan. Interestingly, Gujarat had the highest solar installed capacity till 2015 when Rajasthan with better solar resources overlook Gujarat (Source). One of the pioneering solar initiatives that helped Gujarat cement its position as a leader in this segment is the concept of solar park.
Solar Parks
Gujarat was the first state to launch a solar park and the objective was to create a centralised infrastructure at a massive scale that can not only reduce costs but also helps in building a solar Operation and Maintenance(O&M) ecosystem. The first "solar park" in the state, located at Village Charanka in Patan District, is spread across more than 5000 acres of previously unused land. The park was launched in December 2010 and formally commissioned by the then Chief Minister of Gujarat, Mr. Narendra Modi, in April 2012. Currently, the solar park hosts about 730 MW of solar projects commissioned by 36 developers (Source).
This park also served as a test bed of various types of technologies like crystalline and thin films for Solar Photovoltaic modules and different types of inverts like central and string inverters. The Charanka Solar Park served as a model for solar parks like Pavagada and Kurnool, among others, in other states.
Rooftop solar
Gujarat is a leader in Rooftop Solar, thanks to the progressive policies implemented by the state over the last decade. Gujarat was one of the first and handful of states to implement a rooftop program in 2012 in Gandhinagar. Known as the "Rent a Roof" project, this pioneering rooftop programme was also a unique "gross-metering" scheme along with a "net-metering policy.
These policies have helped Gujarat become the number one state in rooftop solar installation. At close to 2GW installed rooftop solar capacity, Gujarat has about 27% share in the total rooftop installed
capacity in India. In fact, Gujarat's installed capacity is almost double that of the state with the next highest solar installed capacity as can be seen in the image below.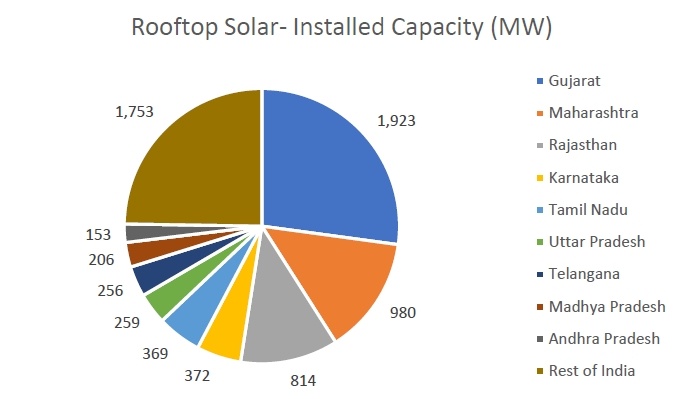 Other innovative initiatives
Canal Solar Power Project
In 2012, a 1 MW Canal Solar Power Project was commissioned over a 750-meter stretch of canal off Narmada River in the state of Gujarat. The project was the first of its kind in India, and had two major environmental benefits – no need for separate land, and potential annual savings of about 90,000 litres of water by reducing evaporation losses. Since the solar project operates at cooler temperatures than ground mounted solar systems in the area, the energy generation from this plant was expected to be relatively higher (Source).
After the success of the Gujarat's Canal project, several other states entered the fray and commissioned canal solar projects. Read here. The lessons learnt from the Gujarat Canal solar projects very likely served as a model for the technically more complex floating solar projects that have been developed in the recent past (read here and here).
Conclusion
Gujarat has been one of the Indian states with a consistently high ease of business reputation, and this extends to the renewable power sector in general and solar power in particular. Under the visionary leadership of the then Chief Minister Narendra Modi, Gujarat set ambitious goals for solar and supported the accomplishment of those goals with highly attractive policy and regulatory framework. This blueprint of success in Solar is expected to be extended to the new frontiers of clean energy – E-Mobility and Green Hydrogen, which we will explore in the forthcoming articles.

With three parallel energy exhibitions, The smarter E India is India's innovation hub for new energy solutions. It presents cross-sector energy solutions and technologies, and reflects the interaction of solar energy generation, energy storage, and the electric mobility industry. This trade show addresses all the key areas along the value chain and brings together local stakeholders and international experts for a clean energy future. The smarter E India brings together the renowned Intersolar India, ees India, and Power2Drive India. The smarter E India is scheduled from 7-9 December 2022 at Gandhinagar, Gujarat.
Contact us:
Mr. Brijesh Nair
+91 22 4255 4707
brijesh.nair@mm-india.in